I recently read two books that are similar on one level but very different on others. Both of them are on my 2015 Challenge list, but it was more or less chance that I read them back to back.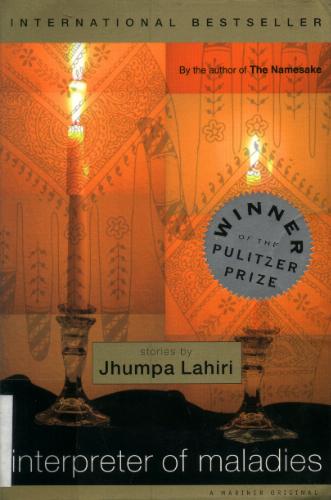 Jhumpa Lahiri's Interpreter of Maladies is a short story collection. I understand that the first story and the title story tend to be thought of as the best, but I have to say that I enjoyed the second story very much. A tale of American children of Indian descent out trick-or-treating, while a visiting Bangladeshi scholar doesn't know if his family is dead or alive because of ongoing political turmoil surrounding the partition of Pakistan and Bangladesh. That some children are imagining bogeymen and collecting candy, at the same time and on the same earth as children who may be victims of a civil war. Those images had staying power for me.
Final call:
Lahiri has a straightforward style, and her stories appear much simpler than they are. I think most people would enjoy this book, be one of them.
____________________________
The second book I read is A History of the World in 10 1/2 Chapters by Julian Barnes. I have read Barnes before, two books actually, but wow. This one takes the cake. If I had a graphic for six stars, I would give it that.
A History of the World is a novel, but you could argue that it's also a collection of short stories. Ten stories and a personal essay that counts as the half. At least one of the stories and the essay verges on nonfiction, and the story has a brilliant piece of art criticism.
So, it has a quirky structure and quirky topics for some of the chapters, there are extreme feats of imagination, and plenty of humor, too. But this is a philosophical novel, at its base. It seems to read as a deconstruction of religion, but turns into something very different, I think. His message seems to be that people should seek objective truth, even if it doesn't exist, and be judged by the love they show their fellow humans. And, that neither history, art, religion, or myth can supply objective truth. I can't really argue that and have rarely seen it illuminated so creatively.
I love this book the same way I love Cloud Atlas. For tackling the big questions, although Barnes does it a lot more directly, even lapsing into his own voice (maybe). The chapters at first don't seem at all connected, but eventually subtle connections, direct connections, and thematic similarities emerge. By the end, I realized that the stories are having a philosophical argument among themselves, or at least, demonstrating the principles in the half chapter.
I saw this book compared to Joyce, Calvino, and Mitchell, but you really just have to read it to see what I am talking about. I also remember thinking this book makes a nice, optimistic pairing to Coetzee's Elizabeth Costello, which seemed to say that Western Civilization was bankrupt and heading for moral crisis.
Final call:
I cannot recommend this book highly enough, but I also don't think the average person would like it. I'm pretty sure this shouldn't be your first foray into books with disjointed narratives written by author/philosophers. Maybe start with David Mitchell and Ghostwritten or Cloud Atlas for a taste of where this kind of book can take you.